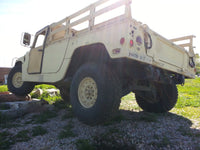 Let's make it better!
Look for our ongoing development of unique products to improve on this timeless truck. Coming soon: aftermarket intercooled turbocharging kits, A/C and heat kits, rocker armored sliders, custom all mechanical bolt in overdrive transmission kits, and more...
Testimonials
The package arrived today and it was well packed and the quality was evident right away. This is no cheaply made kit from overseas and obvious care was taken to make it. The instructions were easy to follow and I had the kit installed in less than an hour! Wow is all I can say! I never expected such a quick change to make so much difference in my Humvee! All of a sudden I have a great truck to drive. The power is much higher and the fan hardly comes on at all anymore. The idle is smoother and it puts out much less smoke. The heat inside the truck is definitely lower too. Good job Paradox!

Chris T.
I was very skeptical, and reading the online discussions I just could just not figure out how this worked. I figured what the heck, if it doesn't work I will send it back or cancel my charges with my card company. Well best thing I have done to my truck yet! Not only does it work as advertised but actually does far more! I cant say enough about the overall improvement in the way my truck drives now.

Jim D.
My M998 has been a hot runner from day one. I have replaced nearly every part in the system, sometimes more than once with no effect. Well PBD upgrade system was the magic bullet! The fan used to kick on all the time and stay on just killing the power, now it hardly comes on at all. I will be buying whatever they do next!

Steve N.
I had to wait a full month for the kit as one of the first to buy it and it was worth the wait! I did some other things while in there but all in all the install was super easy and less than 2 hours. Strangely the truck warms up faster now? Once warmed up it stays constantly at 200 now where before it would spike to 240. The fan runs like 1/2 the time as before and the power is way better. It is still early to tell but my last tank lasted another 30 miles further than normal so looks like that has improved too. My 4X4 group of friends will be buying too once they are back in stock!

John A.
I was thinking snake oil, akin to the tornado or magnets for the fuel. Well not here, this is the real deal. Spoke with Derek before buying as I did not want to waste my time and money, he convinced me. The box was small but the contents were high end and well made. Instructions clear and install easy. M998 is happy with it and now my M1038 is getting one too!

Ben W.
It is obvious that a lot of time and effort went into the design of the CUCV kit. The parts look like something that belongs in a space ship. I was hoping for a lot out of the kit as my high desert heat was killing my truck. I had replaced everything from water pump to fan to radiator and nothing really changed, the old soldier would just need to be pulled over to cool down from 230. Now he runs at 200 and the highest I have seen is 205 and that was with a big trailer going up the grade! All my CUCV Buds are going to want a kit!

Al W.